Company Richtea Design | Client Distillery
Distillery are a content studio based in London. For this brief, I was required to design a complete new visual identity system and a website. During the research phase, I conducted questionnaires and lead a series of meetings and workshops with everyone at distillery to identify their personality, aspirations, capabilities, target customers and competitors. This phase was essential in order to achieve a meaningful brand.
The scope of design work included logo design, colour palette, typography and elements for the brand visual identity. Upon sign-off of the visual identity, brand assets were created including business cards, email signatures, social media assets and a presentation document template. Finally, I re-designed their existing website in line with the new visual identity system. A bespoke set of iconography was also designed to support some of the content on their website.
The research phase enabled us the identify some key terms, which their new brand needed to reflect.
Here are some examples of other routes explored during initial brand exploration. The client felt that some of these options were too masculine and techy. They wanted the logo to feel more neutral.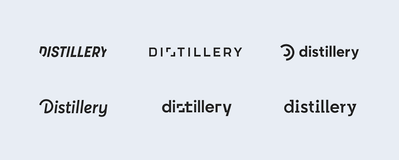 Refining typographic elements in the chosen route.